Airlines of Tasmania
Tours : Full Day
Approximately 2 km from Hobart Airport Tourist Park View on Map
Airlines of Tasmania operates daily flights to Flinders Island from Hobart, Launceston and Moorabbin (Victoria) airports.
There are twice daily airline services Monday to Friday with Saturday morning and Sunday afternoon services available.
Airlines of Tasmania is owned and operated by Aerotechnology Pty Ltd, a Tasmanian company established in the 1970s. 'The company also owns and operates Cambridge Aerodrome and Par Avion Wilderness Tours.
Aerotechnology has a long-term commitment to aviation services and received tourism awards on four occasions. In 1998, they were invited into the Tourism Hall of Fame.
The company operates a fleet of 11 aircraft, servicing not only Flinders Island but remote south-west Tasmania, with charter and survey services statewide, interstate and overseas.
Airlines of Tasmania operates the only air transport category aircraft conducting Regular Public Transport services, a Cessna 404 Titan. This quiet wide bodied aircraft offers extra safety features, enhancing passenger safety and comfort.
The company prides itself in providing air services to remote destinations, and is committed to developing Cambridge Aerodrome as well as operating an aircraft engineering workshop.
Location:
Cambridge Aerodrome
Cambridge,Hobart, Tasmania
Phone:

1800 144 460

Email:

Website: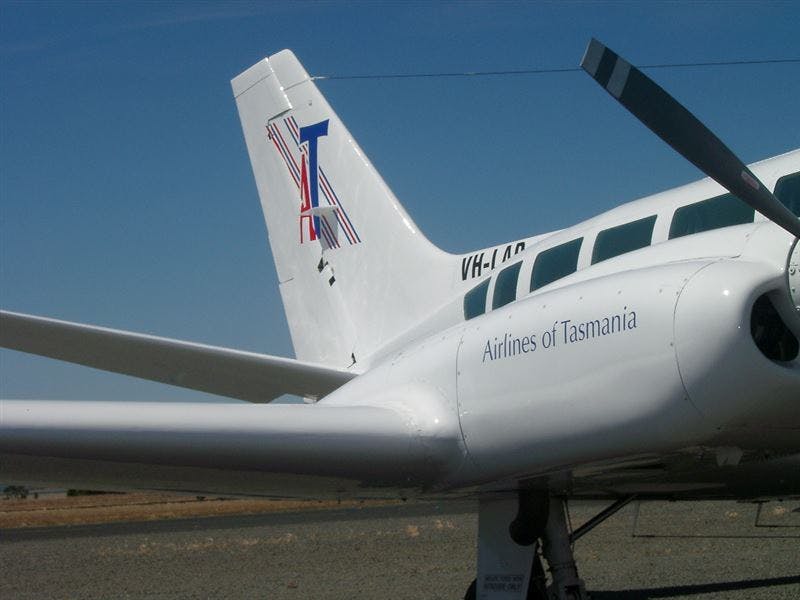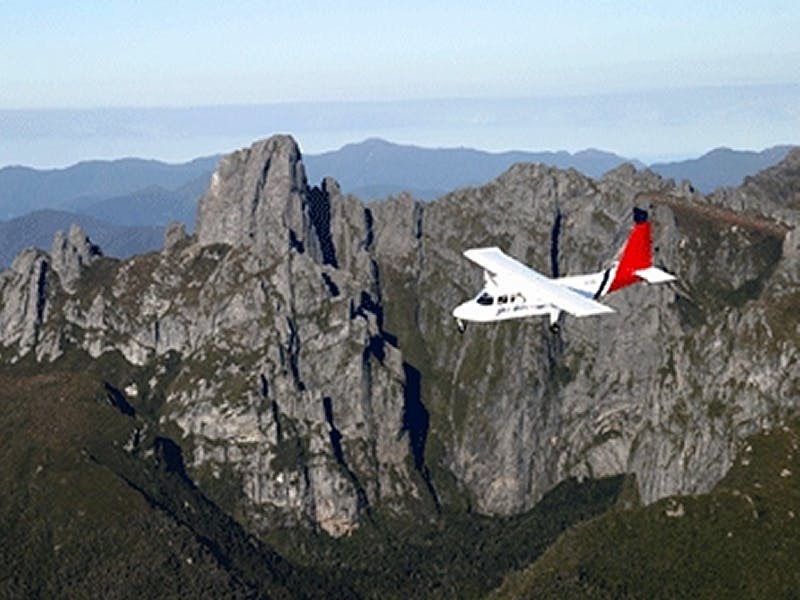 Services
Flinders Island Day Tour
Airlines of Tasmania can take you to Flinders Island, one of Australia's great island destinations. The flight takes 40 minute flight from Launceston. Flinders Island the largest of the 52 islands that make up the Furneaux group of islands, the remainder of a land bridge that once linked Tasmania with mainland Australia. This tour gives you an opportunity to experience in one day this remote Bass Strait island with its old world charm and natural beauty. Upon arrival you will be met at Whitemark Airport on Flinders Island by your guide and taken on a four-wheel-drive journey to see the best of what Flinders has to offer. Flinders is rich with Aboriginal heritage and maritime history along with a diverse range of wildlife. During your stay you will see historically significant Wybalena, an early Tasmanian Aboriginal settlement, and visit the Furneaux Museum. You will also visit Patriachs Wildlife Reserve, the beautiful Trousers Point for a picnic lunch, then the Strzelecki National Park and Walkers Lookout, before flying back to Launceston past Cape Barren Island and Tasmania's north-east coast.
Duration

NA

Price range

$320.00
Last updated on: 18 May 2016
View other things to see and do near Hobart Airport Tourist Park